Silver Special Offers
Filters Ignored
You have selected four or more brands, only three brands can be shown at once (please remove one or more of the current brands to display the new one).
Reset all filters
Save £1
Replacement pegs suitable for all tents. Durable, strong, lightweight and custom made for Terra Nova. Weight 15g....
(more)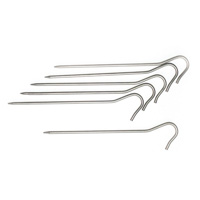 Save £10
Durable and extremely lightweight, these pegs are used through out the Superlite Terra Nova range and would be a superb addition to any tent....
(more)
Save £16
A large surface area and extra length help these pegs bite in conditions where a firm pitch is vital. Ideal for winter conditions, but also suitable for sand and loose soil....
(more)