Special Offers
Filters Ignored
You have selected four or more brands, only three brands can be shown at once (please remove one or more of the current brands to display the new one).
Reset all filters
Utilizes proprietary software, cutting-edge electronic components and signal-processing algorithms to deliver one of the industry's highest value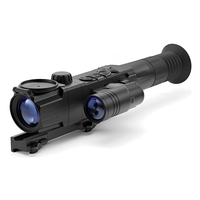 Save £80
Pulsar Digisight Ultra N450 Digital Weapon Scope. The Digisight Ultra N450 Digital Night Vision Weapon Scope takes its inspiration from the well-established Digisight Series. The N450 is fitted with a large, highly sensitive HD-sensor 1280x720 CMOS sensor and a 1024x768 AMOLED HD frost-proof display, resulting in an excellent night time performance....
(more)