Grey Special Offers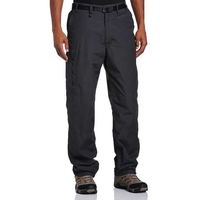 Save £39
Make room for Winter-Lined Kiwis this season. These winter walking trousers have all the durability and comfort of the best-selling classic Kiwi Trousers, but with a snug fleecy lining for added warmth. Featuring a reliably weather-resistant finish and with eight useful pockets, they're great winter hiking trousers....
(more)
(89)
RRP

£65.00
£25.95
Check stock
Purchase Options
Save £32
Rugged enough to take you to the other side of the world and back, our Cargos are designed for adventure and built to last. Equipped with plenty of top-notch travel tech, these anti-odour trousers incorporate NosiLife insect and UV protection with a wicking action that helps keep your cool in searing heat. Terrific travel trousers that are engineered for the long haul....
(more)
Save £34
Less is definitely more – especially when you're packing for a long-haul trip. Save time and space with lightweight travel trousers that not only provide defence from insect bites and UV rays, but also offer a short-leg option at the flick of a zip. Optimum versatility, whatever the terrain....
(more)
Non-metallic safety toecap!
Save £15
Grubs Ceramic 5.0 Driver Safety Boots. Non-metallic safety toecap conducts neither cold or electricity and is not detectable on airport security devices....
(more)