Special Offers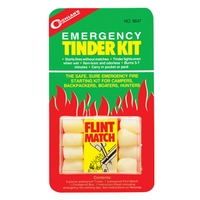 Save £4
Coghlan's Emergency Tinder Kit. A safe sure emergency fire starting kit that starts fires without matches. The Tinder will light even when wet and is non-toxic and odorless. Each piece burns 5-7 minutes....
(more)
Save £7
Coghlan's 2 Step Water Treatment. Emergency Drinking Water Germicidal Tablets and Neutralizer are intended for emergency disinfection of drinking water. When used as directed, they make most water bacteriologically suitable for drinking. Not to be used on a continuous basis. For short term or limited emergency use only. Treats up to 25 quarts....
(more)
Hunter's Specialties Small Game Carrier. Use over the shoulder or hang from belt. Suitable for ducks, geese, squirrels, pheasants, grouse and other small game....
(more)