Special Offers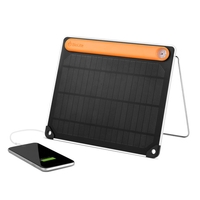 Save £19
Biolite SolarPanel 5+. Get the most from the sun with the lightweight & portable BioLite SolarPanel 5+. Featuring BioLite's Optimal Sun System, an integrated sundial aligns you to the sun to capture direct rays while a 360 degree kickstand simplifies positioning on uneven terrain....
(more)
Save £9
Biolite PowerLight Mini. Go hands free with this ultraslim clippable lantern that moves with you for on-the-go light and power. Slip it onto a pocket or strap and avoid harsh glares with BioLite edge-lighting, helping you see and be seen on the trail or on your commute. A 1350mAh USB rechargeable battery provides up to 52 hours of light or a backup boost to your phone. It's a headlamp, lantern, and bikelight all in one highly compact form....
(more)
Hunter's Specialties Small Game Carrier. Use over the shoulder or hang from belt. Suitable for ducks, geese, squirrels, pheasants, grouse and other small game....
(more)