Garmin Garmin eTrex 30 GPS with Birdseye Select Voucher
Product Unavailable Unfortunately this product is unavailable. Why not try one of the great alternatives below?
Related Products & Accessories
Product Details
Manufacturer code: GA128 | Our code: 109925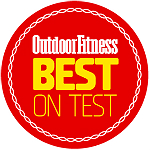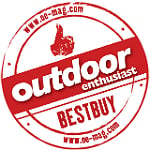 "Best on Test" - OutdoorFitness magazine
"This is a powerful easy-to-operate GPS that will meet the demands of most users" - Outdoor Enthusiast magazine, Best Buy
Garmin's eTrex 30 takes one of the most popular and reliable GPS handhelds and makes it better. Enhanced ergonomics, an improved interface, paperless geocaching and expanded mapping capabilities makes eTrex more versatile and user-friendly, while maintaining its toughness and durability.

See The Way
eTrex 30 has an enhanced 2.2 in 65K colour, brilliant, sunlight-readable display. Durable and waterproof, eTrex 30 is built to withstand the elements. It has an upgraded interface and stands strong against the elements – be it dust, dirt, humidity or water, none of which are a match for this versatile navigator.
The Right Tools for your Adventure
eTrex 30 adds a built-in 3-axis tilt-compensated electronic compass, which shows your heading even when you're standing still, without holding it level. Also added is a barometric altimeter which tracks changes in pressure to pinpoint your precise altitude, and you even can use it to plot barometric pressure over time, which can help you keep an eye on changing weather conditions.
Find Fun
eTrex 30 supports geocaching GPX files for downloading geocaches and details straight to your unit. Visit OpenCaching.com to start your geocaching adventure. By going paperless, you're not only helping the environment but also improving efficiency. eTrex 30 stores and displays key information, including location, terrain, difficulty, hints and descriptions, which means no more manually entering coordinates and paper print outs. Simply upload the GPX file to your unit and start hunting for caches.
Gamin Connect®

Garmin Connect compatible. Garmin Connect is your online training tool to store, analyze and share all your fitness activities. Join millions of users who run, bike, swim and hike. Garmin Connect works seamlessly with your Garmin device and supports all your fitness goals.
Share Wirelessly
eTrex 30 lets you share your waypoints, tracks, routes and geocaches wirelessly with other compatible Garmin GPS devices. So now your friends also can enjoy your favorite hike or cache – simply press "send" to transfer your information to similar units, and let the games begin.
Keep Your Fix
With its high-sensitivity, EGNOS-enabled GPS receiver and HotFix® satellite prediction, eTrex locates your position quickly and precisely and maintains its GPS location even in heavy cover and deep canyons.
Features: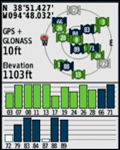 Track More Satallites
Find your way with the first consumer-grade GPS receiver that tracks both GPS and Russian Federation GLONASS satellites simultaneously. When using them together, the receiver has the ability to lock onto 24 more satellites than using GPS alone, ensuring you can "lock on" to a position more quickly.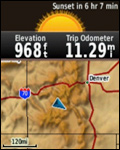 More Dashboards in More Places

Bring more functionality into your frequently used applications with dashboards. Avoid switching between applications and display more information by customizing them with an altimeter, compass, configurable data fields and more.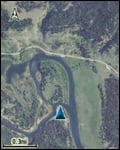 Extensive Map Support

With its microSD™ card slot and large internal memory, eTrex lets you load a variety of maps, including BirdsEye™ Select, BlueChart® g2, City Navigator NT® and BirdsEye™ Satellite Imagery (subscription required).
BirdsEye Select
BirdsEye Select is a new variation of the established Garmin BirdsEye™ service and allows Garmin users to choose customized sections of raster-based maps for compatible handheld device. It is available for the territories of Germany, France, Great Britain, the Republic of Ireland, as well as the popular Kompass branded maps for Austria in addition to the Eastern Alps (Southern Germany/Northern Italy), and Switzerland.
The raster map data downloaded via BirdsEye Select are directly derived by the most popular paper map series in Europe. Using Garmin's free application BaseCamp™, simply select and purchase your desired coverage area and then transfer the raster map data straight to your handheld device. The BirdsEye Select map detail varies between 1:25K to 1:50K scale raster maps depending on the country or product. If you already use Garmin TOPO vector series or other Garmin topographic vector maps, these maps can be mashed with the BirdsEye Select data onto your device to enhance your chosen area and give the best of both mapping worlds: familiarity of the local paper maps as well as the intelligence of the Garmin vector series.
To use BirdsEye Select, you must first install Garmin's free BaseCamp software (version 3.1.1 or later) on the computer. To download BaseCamp click here. In addition, you'll need a myGarmin account to register your device and start use of the BirdsEye Service. You may create an account during the purchase process.
In The Box:
eTrex 30
Preloaded TOPO UK & Ireland Light map
BirdsEye Select download voucher (1:25k OS mapping)
USB cable
Quickstart Guide
Product Specification
| | |
| --- | --- |
| Dimensions | H: 10.3cm x W: 5.4cm x D: 3.3cm |
| Display size, WxH | 3.5 x 4.4 cm |
| Display resolution, WxH | 176 x 220 pixels |
| Display type | Transflective, 65k colour TFT |
| Waterproof | Yes |
| Floats | No |
| High-sensitivity receiver | Yes |
| Interface | USB |
| Basemap | Yes |
| Preloaded maps | No |
| Ability to add maps | Yes |
| Built-in memory | 1.7 GB |
| Accepts data cards | MicroSD card (not included) |
| Waypoints/favourites/locations | 2000 |
| Routes | 200 |
| Track log | 10,000 points, 200 saved |
| Automatic routing | Yes (with optional mapping for detailed roads) |
| Barometric altimeter | Yes |
| Electronic compass | Yes |
| Geocaching-friendly | Yes (paperless) |
| Outdoor GPS games | No |
| Hunt/fish calender | Yes |
| Sun and moon info | Yes |
| Tide tables | Yes |
| Area calculation | Yes |
| Custom POIs | Yes |
| Unit-to-unit transfers | Yes |
| Picture viewer | No |
Product Reviews
There are no reviews of this product yet. Do you own this product? Why not write your own review.